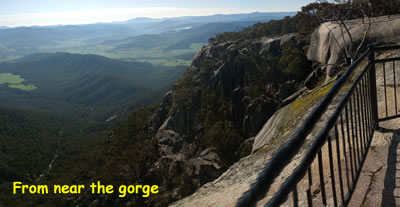 Recently, it was "Seniors' Week" - with lots of low-cost or free things to do for people like ourselves, who have (we don't know how!) become older; concerts, films, etc. Alison looked through the list of activities and found something more in our line - abseiling. Neither of us had done this before and it seemed like a good thing to do, so we booked in.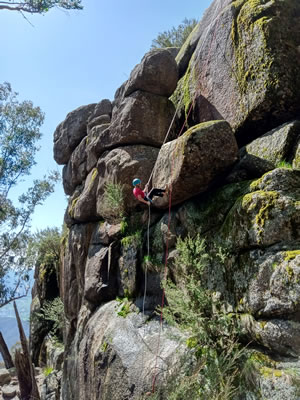 What we hadn't counted on was the weather. As the date got nearer, Victoria had massive amounts of rain with widespread flooding, mostly along the Goulburn River - which we would need to cross to get to Mt. Buffalo, where the abseiling was going to take place. And the weather forecast was for heavy rain on the day it was booked for; so, with 4 days to go, we rang and cancelled it. A pity.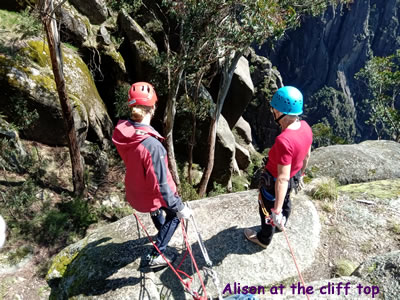 So, that was that. we spent a little more time in Melbourne than we were going to, and returned home to Castlemaine the day before the cancelled abseiling; to fine, sunny weather! What to do? We both felt, for the first time since we retired, that we had nothing to do! And both felt frustrated at not being able to do what we had planned. So we looked up the weather forecast; not as bad as it was before. At 3pm we rang and were able to re-book the abseiling, and at 3.30pm we'd thrown what we needed into the "White House" and driven away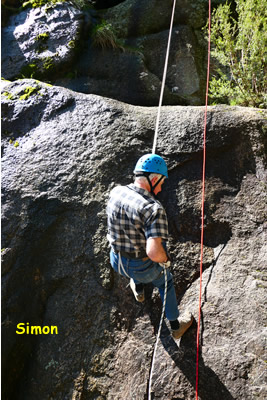 to Mt. Buffalo.

4 hours later (having crossed the flooded Goulburn River and seen some of the damage) dusk was approaching us, and we were approaching Mt. Buffalo. Where to stay? We decide to just head up the mountain and see what we found; and fortunately we found a nice picnic area just outside the National Park entrance which seemed to have no restrictions on our parking there. Very convenient and a nice spot.

And the next day we drove up Mt. Buffalo and went abseiling. It was fun, and remarkably non-scary. And then walked across to Lake Catani, and past the Underground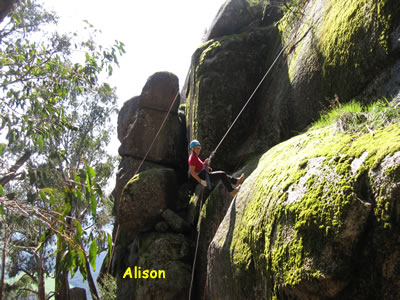 River, before driving up to The Horn parking area and walking up to the summit. And it turned out to be a glorious day; not a drop of rain, quite warm, and mostly sunny. So different to the original forecast!

We drove down at dusk, again, and spent the night in the same place. And the next day drove back home to Castlemaine, through some of the predicted rain. It came, just not as early as the weather bureau had suggested.