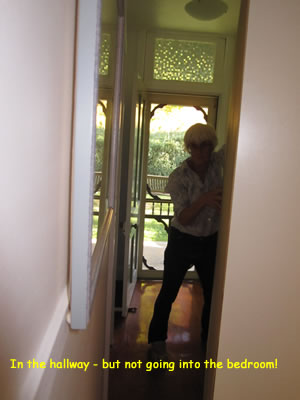 We've been living in our house in Castlemaine for 11 years now. Being an old house, it had no built-in cupboards or wardrobes; and we've never had a wardrobe in our bedroom. After re-carpeting the front of the house we decided it was time we had one.
We had been keeping our clothes in an old flat-pack wardrobe (we'd previously had it in Allison Road) which we had in the front room. But it was not a perfect solution, so after the re-carpeting we put it back together in the shed instead - where it is very useful.
Our bedroom is not large, and despite our sleeping in an ordinary double,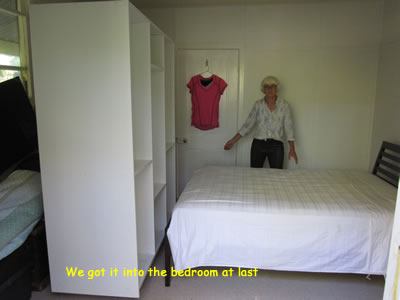 not queen size, bed, there is not a lot of room. But we worked out that by moving the bed across a wardrobe could be squeezed in satisfactorily.
So - another flat-pack, to a slightly different design? We tried. And tried. Contacted some flat-pack manufacturers, visited furniture stores, and even Ikea; but found nothing like what we needed. So in the end, it was up to doing it ourselves. (This seems to happen a lot.)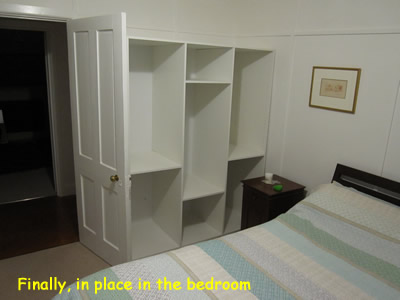 We bought the appropriate laminated boards, and with careful planning and a lot of measuring, and measuring again, cut and drilled the boards and made our own flat-pack. Then brought all the bits down to the back veranda to assemble it all. Amazingly, it all worked and the finished product looked just as it should.
Then it was time to move it into place, and the first problem. The assembled wardrobe was very heavy. Fortunately we have a small moving dolly, and with its help we got it up to the front hallway and the bedroom door. Here was the second problem - it was too long to be able to be turned into the door. Not by much - only a couple of centimetres - but enough to make it impossible.
We were contemplating disassembly and reassembly - not with joy - but then thought of the french doors, which we never open. But in the end we took it out the front door, round the side, into the garden, and we got it inside the bedroom. And then putting it in place was not so hard.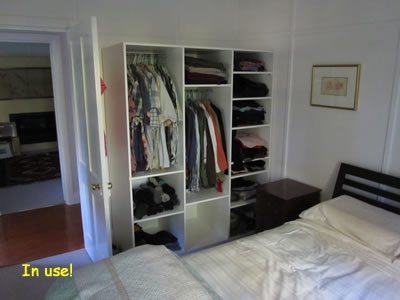 But we'd had enough! But also - it all works, and it has been worth it.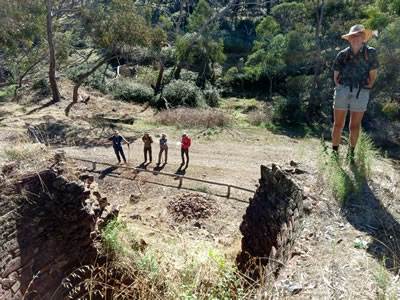 And for some light relief - we went on a U3A bushwalk on Mt. Tarrengower, walking past some of these huge ovens made for roasting quartz - to remove some impurities and increase the liklihood of getting more gold from it.