We had a day off walking in Fort William; a day of cold winds and frequent heavy showers, so a good day not to be out walking. But not a really interesting town to spend a cold, wet day in. And then it was out again walking for six days.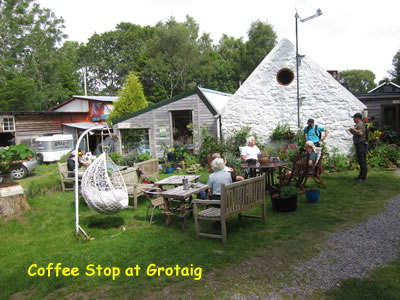 This time, we had better weather to walk in; on only half the days we needed our ponchos out, and stopping for our coffee was not prevented by rain. We began the first days with quite flat walking, along the banks of the Caledonian Canal; we've seen lots of locks, and lochs, and lots of swing bridges.

We have finished walking- I think a 400 km close up look at Scotland is enough for this trip. The great Glen way basically follows Loch Ness and the Caledonian canal from the west to to the east coast. An ancient geological rift almost splits Scotland into two halves. Where nature didn't divide it, men did by digging the Caledonian canal which links lochs and rivers to complete the crossing. The maximum elevation of the Caledonian canal is 33 metres above sea level- this means quite a few locks to raise ot lower the canal water height but also means almost flat walking where the trail follows the river or canal. We had some interesting chats to the lock keepers about idiot boat skippers, the occasional privileged prat and some of the incidents which occur when people don't have sailing skills. I am quite glad we didn't "sail " across. ( Despite seeing many expensive, beautiful ocean going yachts, they were all motoring).
There were times we were appreciably higher than canal side and walking up on the moors above the treeline, with good views. There were more times we were walking

in forest, both replanted mixed woodland and commercial forestry areas. This walk we found more sociable as we met and re-met many groups of people and the finer weather allowed more conversations. It is both easier and more relaxing than the West Highland Way, but also less scenic. Inverness is on the east coast so what did we do when we arrived ? We booked a bus trip right across Scotland back to the isle of Skye off the west coast! A surprising number of walkers had told us how beautiful Skye is and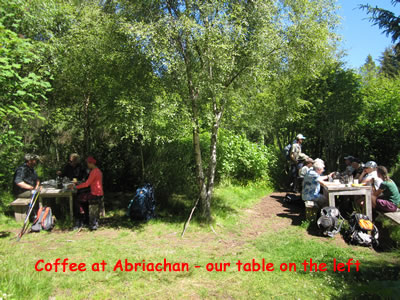 while it was a long day and a quick look, it was worth the effort. It also reminded us why we generally don't do bus trips.
One day later found us on the train and headed for Edinburgh. We will have five whole days here, at leisure, no travel and sleeping in the same bed! .So far, we have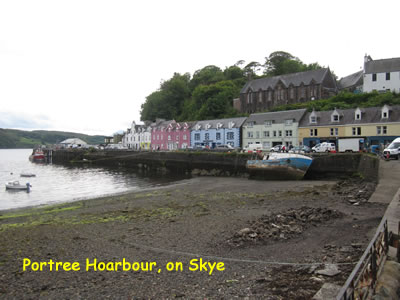 discovered that no roads run straight in Edinburgh, that it is easy to get a bit lost, and then just as easy to get re - oriented, by looking for Holyrood Park or the Castle or another landmark towering above us. I am enjoying exploring this city.