We have finally gone away again, doing the trip which we had started thinking about in 2018, booked in 2019 and then cancelled it, and have had our flight credits parked with our travel agent ever since. Until last October, when with optimism that the covid situation would settle, we re-booked the flights and the walks we plan in Yorkshire and Scotland. And despite our flight itinerary now being in its 5th iteration, it is actually happening! It is very strange to feel that it has all come about!
(Though in the past week we saw the Lonely Planet's "Walking in Britain" on our bookshelves, and looked in it. The part I noted was that the total ascent on the West Highland Way is ~3,500 metres - 1 1/2 times the rise from sea level to the highest point in Australia! At least we get some practice on the flatter Dales Way in Yorkshire first.)
Our daughter Alice was going to drive us to the airport, but a week before we left she and her partner Sidhar both caught Covid.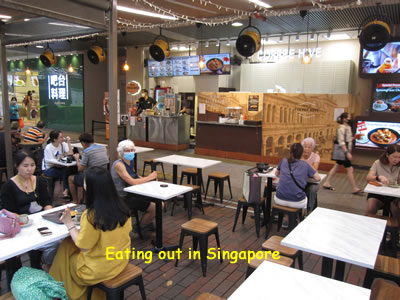 (They didn't get very sick from it.) So, to be on the safe side, we used our old method of train and bus, which worked like clockwork - aided by an unusually warm and dry morning. The airport was quiet and easy to get through; despite travel opening up, there are far fewer flights than there used to be.
And then? Despite everything going smoothly with no problems, I felt a bit apprehensive for the first day. Not about covid, just being away overseas again. Getting the train to our hotel (the Wanderlust) was easy, and the hotel was fine. Getting around Singapore was easy - if you were going somewhere well known; we went and walked a little in some of its green areas, but these were not so clear. For the first time in our lives we've made a lot of use of Google maps and and of finding our location with the phone - thank goodness our UK SIM cards give us data use in Singapore. We still got lost, as we often do, but it was only a little bit lost.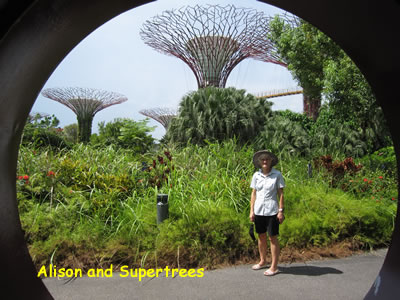 The first day we walked through the Gardens by the Bay, a quite extensive garden with metal sculpture "supertrees" in the middle. The supertrees are not just for show - they are part of an extensive, mostly underground, system of recycling / water conservation / fertilisation. Then we spent some time trying to find some sort of tourist information and obtain a map of some sort; it took a lot of doing but in the end we succeeded. Thanks to everything being digital, maps are going out - but we still like to be able to see the big picture rather than a small section on your phone's screen.

The next day we went to the north of the island to find the Rail Corridor - a rail trail which will eventually run north to south through the island. Thanks to yesterday's advice (the internet was useless in finding out much about it) we did find it; we'd not planned how far we'd go, but ended up walking the whole 13+km. Then, despite Google maps, had quite a lot of difficulty finding a train station to get us home. In the evening we went to a light show on the supertrees, then to a sort of juggling / circus show which Alison had read about. Again, a little difficult to find. But there is a lot on in Singapore in the evenings.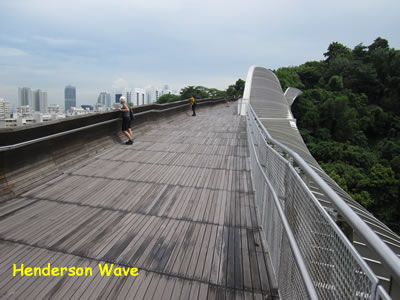 Our third, and last day, I planned to not get too hot and sweaty before the evening's flight. It worked in the morning, with a little stroll around Chinatown; but then we went to find Henderson Waves - a very high and artistic footbridge. We found it (not easily, again!) but then found that it led into the Southern Ridges park. So on we went, along a raised pathway high in the trees which went on for ages, leading eventually to a lookout over the (very very extensive) docks, and on to the university where we found a station to get us home. But,although hotness and sweatiness was not avoided, it was all worth it.
Now, we've left and gone to the UK.