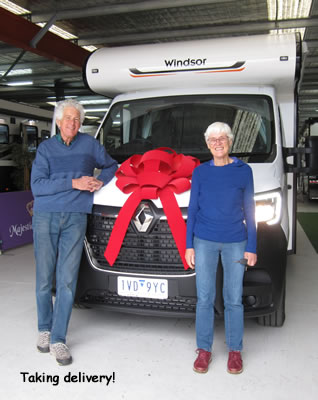 Earlier this month, our "Windsor Daintree" motorhome, ordered 14 months previously, was finally produced and ready to be picked up! So we went out to Somerton on the train, and, after spending over 2 hours seeing it and being told about all its features and controls, we drove away; back up to Castlemaine, in pouring rain. But it was surprisingly easy to drive.

Also surprisingly, it was full of fuel and of gas. We had expected that we would have to fill it up with diesel at the first service station we got to, but not so. 100 litres of diesel! And a full 9kg gas cylinder!

Up in Castlemaine, another of my vague background fears turned out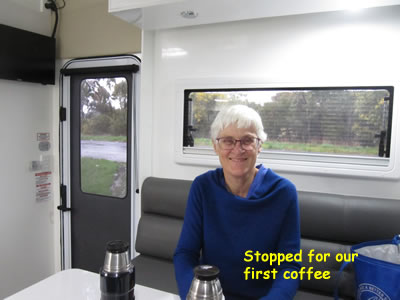 to be unfounded - I was able to back it into its parking spot, between the 2 new gate posts, with little trouble. Despite setting them what I thought was far enough apart, I was a little afraid that in practice it would not work. But it did!

What should we call it? We started out saying "the van", but that really is a bit ordinary; so we settled on "the white house" - it's a sort of house, it's white, and we call our other places the Castlemaine house or the Melbourne house - but this one is moveable.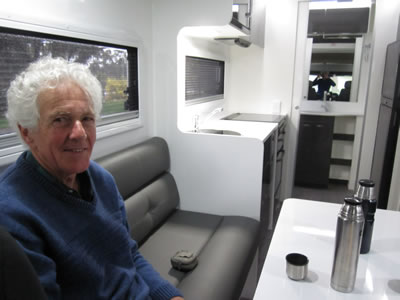 But then - it just sat there. For over 2 weeks, because 1. we had too many things happening to find the time to drive away in it, and 2. the weather was dreadful, with lots of heavy rain and cold weather. We did spend some time sorting some of its features out, and packing it with the basic necessities of life. And finally, this weekend, at last - despite it being an extra-long long weekend, for the silly "National Day of Mourning" for the queen, following by the silly pre-Grand Final AFL holiday - and being in the middle of the school holidays, to boot - we opened the newly-installed gates and drove away.

We headed for Paddy's Range State Park, just beyond Maryborough - all of ~40km away; we drove down to the campground. It was quite full; we parked in the least densely populated part, and looked around. There was a 2-hour return walk over to the picnic area, so off we went. A pleasant walk, to a picnic area which was 1. a nicer spot than the campground, 2. uninhabited, and 3. lacking any signs prohibiting overnight camping. So of course we walked back, and drove over to the picnic area for a lovely quiet night in the bush.

Next morning, we used the shower for the first time - no problem at all, we just needed to lie in bed for 15 minutes to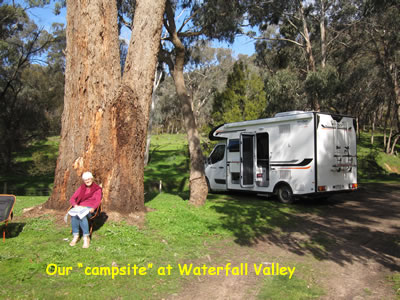 give the water heater time to produce hot water. Back into Maryborough for a walk around town on Saturday morning. Despite being only 40km from home, it felt to both of us that we could have been away somewhere hundreds of kilometres away, walking around an unfamiliar town. After treating ourselves to a coffee and cake, we drove down to Avoca and had lunch by the river.

Where to now? Our camps book had a favourite spot close by, at Waterfall Valley. So we tried it out; it is a lovely green spot by a creek, with some others camped but a fairly large empty area at one edge. We sat outside for a while - warmish when the sun shone, but a cold wind as well - had a walk up to and above the waterfall, and chatted to some others when we returned. Then a dinner (a roast) and we needed to use the diesel heater for a while. It worked beautifully.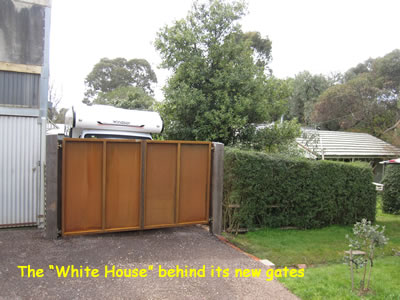 Our only problem? Despite being retired, and theoretically able to go away whenever we like, our lives are so full with things on, that going away takes some pre-meditation. We had thought of taking the vehicle to Tasmania in February / March but the ferry is all booked out. Next year.