We landed. Uneventful. Manchester Airport looked grubby and tired after Singapore and Finland, but everything went very easily. Amazingly easily. The result was that we were out, ready to go, with two hours before our booked train to Liverpool was due. We asked if we could take an earlier one, but no; so we went and sat in a quite nice coffee shop and very slowly drank our coffee. (Prices, which we expected to be very much higher than at home, were in fact comparable.) And – again, no masks.
We got on the train at last. Into Manchester, a change, and off to Liverpool; the journey made more interesting by a conductress informing another passenger that his ticket was for Northern Trains, not TransPennine which we were on; in the end he was offloaded for the police to follow up. Quite right – there were many announcements before we left about this.
1pm, and we were in Liverpool. We had to find our apartment; using the phone again, we walked for ~15 minutes (or so it seemed – it may have been jetlag creeping in) to a minimart where we picked up the key, and then went and found it. A reasonable place, though it has a building site across the road.
We were starting to fade. And the UK phones weren't working as they should have; it annoyed me and I experimented, then sent an email off to SIMcorner in Australia. But then we went out for a walk. As usual, we had no map and hadn't found tourist info to get one from; we walked back to the station, and beyond found the library; so we went and asked there. The lady there gave us a map and told us where we could – maybe – find tourist info. And she advised us to look in their reading room, which we did – very impressive. We had a look from their rooftop terrace – OK, but not so impressive.
We wandered down into what we now knew was the central part of Liverpool. We bought food for dinner in Marks & Spencer; found tourist info, who were very helpful; and even found a "3" shop where our phone problems were, I hope, resolved. But we realised that yes, we'd had 3 breakfasts today; but the last one was ~9 hours ago. We were hungry as well as jetlagged. So we went home and cooked some of the food we'd bought.
We lasted till 8.30pm, then gave in and went to bed.
Thursday 9th June Liverpool
It gets light early in the morning here. Which is just as well, because at 4.30am we gave up and got up out of bed. Put on clean clothes. Had breakfast. Tidied things up. Still, it was early when we went out – too early for a lot of things to be open. We walked back into the middle of town, where at least the supermarkets were open. We had a shared a large coffee in another "Cafe Nero"; then found an Aldi and bought some vegies to add to our dinner tonight, and walked home to put them in the fridge.
Alison made a hot chocolate, and then we went out to be tourists. The weather was going off so it was a good day for museums; we went to the recommended Liverpool Museum. Only to find a small A4 sign stuck on its door saying "closed on Thursday 9th June for staff development". Disappointment! Well, at least we still have the Maritime Museum and Slavery Museum to see. I joked that they were probably closed too.
The joke was on me. They were closed, for the same reason. We only had the Tate Modern left as an option. Modern art is not a big attraction for either of us, but there was no alternative. The visit didn't change our minds. There were a few – few – good pieces, and a lot of what MONA in Hobart calls "art wank".
Lunchtime. We went to a "Pret de Manger" shop, which sells nice pre-prepared lunch things. We bought some, then found they charge an extra 20% if you want to sit at their tables; so of course we went and sat outside. It was drizzly and cold; we returned home and worked out how to turn the heater on, and warmed ourselves up.
Out again at 4.30; out past Lime street Station, to St. John's Market and then the Walker Gallery. It was closed too, of course. The impressive library is next door, so we went and looked at it again. At least it was open!
Then, we headed for the Anglican Cathedral, which is the largest in Britain (with its largest organ as well) and close to our apartment. It was very impressive, and had a very good but poorly attended sung church service happening. It was quite nice sitting there for a while. We walked around their garden and came home to dinner.
We're managing to stay up an extra hour tonight!
Liverpool was obviously a very wealthy city – unfortunately some of it built on slavery, though we read that, in some time in the 1800's, 40% of the world's trade went through Liverpool. There are huge numbers of very impressive old buildings, sitting well alongside some modern ones. There are also huge numbers of eateries (generally well patronised), and I've seen more people vaping here than I've ever seen before.
Friday 10th June Leeds (Chapel Allerton)
We managed to stay asleep until 5.30am today – quite an improvement. And – it was a travel day. I felt happy that we don't have so many of these, and that we opted not to stop en route from Kendall to Glasgow, and Inverness to Edinburgh. It sort of mucks up a day a bit.
After breakfast – and some packing (Alison's case was difficult to close) we set off to look at the Catholic Cathedral. The day became sunny, and was much better than yesterday. The Cathedral was not what I had expected – it was modern, and round, with a sort of tower of stained glass in the middle. I was not impressed by it.
We walked back through town, along some streets we'd not been along; we were going to go to the Lidl supermarket we saw when we arrived, but we managed to miss it. So, it was back home for a coffee and finish packing by 10am, return the key, and head down to the bus station. Today, we're going by bus at 11.30am. We asked about leaving luggage at the bus station, but no go. We were heading down to the docks but decided that was silly – not enough time to do anything – so went back into town instead. We looked around the Waterstone bookshop for a while, then had a coffee (sharing a large one, as we often do now, rather than having two small ones).
On to the bus. While you saw quite a lot – more than from the train – the traffic was very heavy and really, train is more comfortable. We stopped back at the airport where we arrived 2 days ago, then in Manchester, and then went on to Leeds. We were meant to arrive at 2.20pm, but we were nearly an hour late thanks to the heavy traffic. I rang Angela, with whom we are staying, and then we went out to work out how to get there.
We are staying in the suburb of Chapel Allerton, a little way out of town. We had to take a local bus. It took a little while to find the right bus stop, and then we had to ask about how and how much to pay, and where to get off. But this all worked, and we walked up to Angela's house. It is a standard semi-detached two storey house in a dead-end street; little, but very nicely maintained. We have a large airy bedroom upstairs at the front.
We chatted for a while, then went out for a walk uphill into the shops of Chapel Allerton. A very reasonable little shopping strip with three supermarkets, and lots of pubs. We bought food for dinner, ate a bag of chips (we sort of missed out on lunch today), and then had a beer outside a "free house", in the sunshine. Pleasant. And the pint of beer remarkably cheap! Less than half what you'd pay in Australia.
Walked home, cooked a nice dinner, and tonight we're staying up till past 10pm.
Saturday 11th June Leeds (Chapel Allerton)
(We didn't make it till 10pm – in bed at 9.50). But we didn't wake properly this morning till 7am, so things are improving. Breakfast, put on a load of washing, chat to Angela; and with the washing on the line we headed off into Leeds on foot – taking some back lane routes Angela had advised. They were a very good way to go.
When we came up on the bus yesterday, it seemed like quite a long way out of town; but on foot, it was not very far at all - it probably took only ½ hour. We came in to the north side, past the arena, and into a shopping centre. We found an op shop, where I bought a silk shirt and (amazingly) a case for my Nokia phone. This may have influenced us going into a phone repair shop there, where Alison bought a screen protector for her new phone – something she's been wanting since she bought it. This inspired me to ask about getting my cracked screen replaced – and finding that is was a cracked screen protector only! So I now have a new screen protector and my phone looks like new again.
We had a coffee and cake at 11am, and then wandered about Leeds and its arcades. We found it a really nice town to wander in; very impressive old shopping arcades, a good mixture of old and new; We walked down to the river (the Aire) which was lovely to walk along; we went to the Royal Armouries Museum there; a very good museum, full of old armour and weapons; but these things are not something that either of us wanted to look at. The best part was a small room dedicated to arms reduction, with a video about removing weapons in Mozambique after their civil war and turning some into artworks.
A walk along the river, back into town, up to the Art Gallery and Library – where we found the Tiled Hall Cafe, a very impressive large room tiled all over. A very nice place for coffee and cake. And then time to go home – we managed to retrace our steps from this morning. And I unzipped my legs – the first time since arriving here in the UK it has been warm enough to wear shorts. And this is summer! It lasted for a couple of hours, then they went back on again.
We put our washing away (Angela had brought it in when there were few drops of rain) and then we all went out, and Angela showed us the back way to the Chapel Allerton shops; we looked in their op shop, then bought some food for dinner (it will be eating out for the next few nights) and returned.
It has been a good day. Even though we're not on the "walking" part of the trip yet, we've been doing a lot of walking!
Sunday 12th June Ilkley
Sadly, we woke up early again. We forced ourselves back to sleep. At 7.30 I went to have a shower; but I couldn't summon up hot water. So I returned to bed and read until we heard Angela getting up; I asked her, and it seemed to work.
We had breakfast, packed up; talked to Angela for quite a while, then headed out. We had decided that we may as well just walk back to town towing our bags; and that's what we did, with a little variation at the end to avoid the busy road we'd crossed before. We got to the square outside the museum 10 minutes before it opened (11am, like everything here on Sundays). We sat down and read for 20 minutes.
Do we go in? No, we decided we should go to the Art Gallery instead; so we went there, and started in the Tiled Hall Cafe. By a window. From which we could see a lot of police outside, and the "Ghostbusters" car and all its equipment. Interesting. Alison went out to investigate; it was the "Make a Wish" Foundation, doing it all for a 9 year old boy with severe congenital heart disease.
We sat in the cafe for over an hour, till the boy emerged from the library with the ghost in a box. Then had a look through the gallery – much better than Tate Modern in Liverpool – and watched a fairly dreadful young modern dance troupe.
Off to the station for our train to Ilkley; but we were a little early, so we walked down to the Corn Exchange, a large circular building we'd seen impressive photos of. In the flesh, it was not so impressive. We walked back to the station, buying a doner kebab for lunch on the way.
Ikley was a ½ hour comfortable train trip away. We walked up to our B&B (1 Tivoli Place) booked for us by Mac's Adventures. This is the beginning of our Dales Way walk. We were 10 minutes early, so sat outside till 3pm.
We have a very nice room on the top floor. We unpacked. Staying at Angela's was fine, but we both had the feeling of imposing on her; unwarranted, we know, but.... It is more straightforward staying here, in some ways.
After a walk around town – a bigger town than we expected – and it was very cold, with light sprinkles of rain. We passed strolling couples eating icecreams. A summer afternoon in the UK, but... freezing! Back home to playtime, then the job of re-packing. Tomorrow, we have to have only 2 bags to be transported, and our 2 day packs. Up to now, we've had 2 extra "overflow" bags, which have to go. Alison did, of course, an excellent job, and it should all work.
Out to get some dinner. We went to a Witherspoon pub – one of a huge chain, we discovered – and had some roast chicken. We planned vegies with it, but language got in the way – for the first time I couldn't clearly understand the man behind the bar. This is only going to get worse!
Monday 13th June Burnsall
Today we started walking the Dales Way. It is really nice to be doing this sort of thing again – it reminds me very much of the Camino.
The weather was good – mostly overcast but sometimes sunny; no rain; and most of the way I walked with my legs zipped off.
We got up and had a really nice breakfast. Good muesli, full English breakfast (sausage, egg, bacon, black pudding, tomatoes – but not too much of anything) and home-made and yummy croissants and bread. We packed our things – it all worked – and said goodbye, and set off.
The way went beside the River Wharfe the whole way, but it was very varied. Sometimes through open fields, sometimes forest, and sometimes along roads. Some other walkers, especially near the towns, but often we were entirely on our own. The path went through the graveyard of St. Peter's Church in Addingham; past a very old Quakers' meeting house a little further on; and then to the ruins of Bolton Abbey. We stopped here for "lunch" (which was really a largish snack).
At lunch, we investigated Alison's faintly beeping backpack – and found it was her computer, which was on! And it was quite warm. Why? I do not know. In the bright light it was hard to see the screen, but I shut it down.
Bolton Abbey is a popular spot. The ruins are very large and impressive. There were quite a lot of other people around here, and for the next hour or two as the track ran through Stridd Wood (an oak forest – one of the largest around the area, but not very big really), past the Stridd (a narrow and dangerous part of the river) and then across the river on the Barden Aqueduct. Then along through fields till eventually we got to the tiny old village of Burnsall. 6½ hours after leaving Ilkley.
The only place to eat here is the Red Lion Hotel. We called in to book a table for dinner, and asked for directions to our accommodation, the Manor House. We found it is part of the hotel, so they checked us in. We've had a little walk (it's a little village), and a shower, and a coffee. Our room is very small, with one corner borrowed to put in the en-suite, but it is quite comfortable. And we will be able to close the curtains and may be able to wake later tomorrow!
We had dinner in the pub – reasonable, but a bit too much nouvelle cuisine – then went for a walk in the village. It's not very big. We ran into a couple we'd seen on the track – Andy and Susie, who are sort of local, and who are also walking to the end like us.
Tuesday 14th June Hubberholme
Today did not go quite as planned, though it ended up well.
We slept reasonably in our tiny room, went for a short walk, then were back at the hotel for 8am – the earliest we could have breakfast. We wanted to get away early, as there was a good distance we needed to cover today. Andy and Susie were there, so we sat together. We began with muesli; when they came for our order, Susie ordered porridge as well as a "main" course. Then, things went slowly. It turned out they were waiting for Susie to finish her porridge before bringing anything else. While waiting I went and took our bags out for collection. Main course eventually came, and was rather awful; and after being some of the first to come to breakfast, we were nearly the last to leave. So much for getting away early!
We walked for 1½ hours to the village of Grassington. This was the last place (for some days) with any reasonable shops. So, despite being a bit late, we sat down at a cafe for a coffee, and Alison went and bought some oranges in their little supermarket.
Fortified, we went on. The way went up the main street. We went there, and continued up and continued up a long dead-end road between stone walls; until I came to the realisation that we had missed the turnoff, and were going the wrong way. We were trying to work it out – I was loath to backtrack down to find the turnoff – and were looking at maps when a man came walking along. He confirmed that we were off the Dales Way – we were near the village of Yarnbury - but said we could turn left just up ahead and get back to it. So that's what we did.
And after turning off we came across another couple who gave us more advice; though there we tracks here and there with not very much signage. I was getting a bit unhappy about being "lost", particularly as we were late setting off in the first place.
Eventually we got to paddocks with horses in them, and I saw some horses going down a road in the distance. After stopping for our morning coffee from our thermoses, we went there too. Just off the track Alison saw an old arched mine entrance, and we went there; above it were a couple of ladies having a rest. We chatted for a while, then went overland in the direction we expected the Dales Way to be in. We found a rocky outcrop (the "Coniston Pie") from where we could see Kettlewell, where we were headed. We saw also a good track which seemed to lead there, so set off along it. It turned out the be, at last, the Dales Way. We walked most of the way there chatting to another walker, whose wife – his support person – was driving their motorhome to Kettlewell.
We stopped under the bridge in Kettlewell for our next break, then it was off again; across the river, and along to Buckden. We were meant, according to our notes, to check in for tonight at 4.30pm, in Hubberholme – a mile beyond Buckden; and at 4.30 we were still not at Buckden. I tried phoning – no signal. So on to Buckden.
Outside the Buck Inn, there were Andy and Susie. The publican lent me his phone (a landline) to call Hubberholme; no trouble being a bit later. So we sat in the sun, had a beer and some dinner with them, and then set off.
We got to Hubberholme at 7.20 pm. We are staying a "Church Farm", a little B&B where we are the only guests. It is a much nicer place than last night.
Wednesday 15th June Cowgill
Today was different. Everything went easily, and, unlike yesterday, we saw hardly any other people.
We had a nice simple breakfast at 7.30am, and we were on our way at 8.15am; just as well, because today (at 27+km) is the longest day's walking. We were still beside the River Wharfe, though it is getting narrower. And stranger! It is limestone country, and we passed a section where there was a little waterfall, then dry river bed, and then normal wet river again. We stopped – quite early – for a coffee where the track crossed the river at Deepdale, then on by the river through Oughtershaw to Nethergill Farm. Past here, the track became a narrow grassy track, and it was very boggy; and it kept on being that way till we went up the side of a hill to Cam Farm. We stopped just beyond here for our lunch of a pork pie and hard-boiled egg.
We had left the river; the track kept ascending (and fortunately getting less boggy) till it hit the Cam High Road, a good stony road (though grass would have been better!) from where we could see the very big Ribblehead Viaduct, before the road eventually descended into the valley at Far Gearstones. We rested our feet here before heading uphill again, quite steeply at first, then across a high moor (Blea Moor) before hitting the Dent Road – a bitumen road, which led downhill under the Dent Viaduct, beside the River Dee, to our B&B tonight – the Sportsman's Inn. Here we have a double room with a separate private bathroom, with bath but no shower! So we both had a bath.
The weather today has been perfect. Warm and sunny for most of the day, with not too much wind. It has been excellent walking, with good views and a great variety of scenery; and a remarkable lack of other people on the track. How fortunate we are!
We had dinner in the pub – a very good dinner at a very low price, with a talk to Sandra, who runs it; and who bemoans the drop in the local population in the past 30 years and the number of properties now owned by non-residents.
And we both feel a bit footsore / legsore after today's walk. Tomorrow is much shorter, thank goodness!
Thursday 16th June Sedbergh
Breakfast was not till 8.30am today; so beforehand, I finally finished my bookclub book, "To The Lighthouse", by Virginia Wolff. I am amazed that I managed to finish it, and I am amazed also that it ever got published. The ramblings of an introspective upper-class Englishwoman with too much time on her hands. I am so glad that I can now allow myself to read something enjoyable. (Though, even though today was much shorter walking, the book was not opened again.)
Breakfast was very nice; and – we left. Today with only one thermos, as there is going to be a cafe to visit on the way!
The walking was not so exciting today; there was a lot of riverside walking, along with a reasonable amount of going off track. The marking of the Dales Way is less than perfect, and going "off piste" is very easy; fortunately I am now very au fait with the Mac's app and its locator, so it is easy to check whether we are still on the way or not.
We got to the town of Dent, where there are cafes. Or, there are meant to be; we walked around the town and at least one was shut. But a cafe at the Heritage Centre was open, and we were able to sit outside, in the sun, and have the best coffee we've had since we got to the UK. We probably stayed here an hour; and we saw – not another single walker go past! There seems to be remarkably few people doing this walk.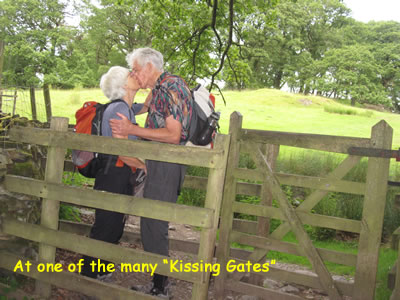 Off we went. More riverside walking for a while, then along a road, then uphill between stone fences again, and then – after we'd stopped in a sheep paddock to drink our thermos of coffee -a descent into the village of Millthrop, which is next door to the town of Sedbergh, where our B&B is.
We'd been texting, along the way, with Suzie & Andy. They were ~ 1 mile behind us; so we found a bench to sit on and wait for them. Then along came Ken, our photographer of the past couple of days; we chatted and he took another photo before heading off to find his "support team" wife, and the pub. Then along came Suzie & Andy; we walked along with them till our turnoff to Sedbergh appeared.
We walked up a public footpath through the school. Sedbergh has a huge, and very affluent, private school – which appears to cover about half the land area of the town. It's a nice typical English town, with cobblestones and lots of stone buildings. Our B&B - "Daleslea" - seems fine; we have a large, quiet room. It has a bath, but this time a shower as well.
We went out and checked out the supermarket – the first we've seen for 2+ days – and looked for somewhere for dinner. We booked in at the "Red Lion" pub, where we found Ken and his wife; walked around the town a bit; and went and had dinner. A fine dinner with a very busy and chirpy barmaid.
And we came home.
Friday 17th June Kendal
A good sleep, a trip out to the "Spar" supermarket down the road for some things for lunch; a good breakfast; and at 8.45 am we walked out of Sedbergh. Today's walking was memorable for seeing 2 more large viaducts, not having too many other items of interest to see, and losing our way – in a minor way – frequently. The Macs app with its location indicator was used countless times; the signage in this section of the Dales Way was the worst we've come across. Often I needed to use the locator to work out which direction to walk across a paddock!
Having said that, it was quite a long stage (25+km) and was generally a very pleasant walk. We were expecting rain at 3pm; it came a little early, but it wasn't heavy and it gave us the opportunity to try our ponchos out.
We saw no-one we knew today; the only others we saw were 3 young men, whom we saw walking on the correct path once when we were off it. Hooray! We can follow them. But, they disappeared; it turned out that the lost their way, and then followed us!
We got into the small and depressed-looking village of Burneside at 4.15 pm. Our B&B tonight is in Kendal: a taxi had been arranged for 5pm to take us there. We sat in the pub for a while, then went outside and waited. The taxi turned up and brought us to "Bridge House", a B&B not far from the centre of town. Kendal is the biggest town we've been in since Leeds.
(Tomorrow, a taxi returns us to Burneside for the last section; but we noted that, after finishing in Bowmore on Windermere, there was no provision for getting back to the Kendal B&B. We had to ring Mac's, and it was all promptly sorted out; we now have a taxi back as well.)
We went out for dinner. The town is quite confusing with a lot of curly roads, and a curly river in the middle. We ate some nice fish and chips in a recommended shop, and ate an icecream from Tesco on the way home. We are both quite tired tonight.
The only problem with being in Kendal is that it gives us the feeling that the walk is over; but it's not, till we walk into Bowmore on Windermere tomorrow!
Saturday 18th June Kendal
We had a pleasant breakfast – Sheila here sits all her guests on one table – and then an easy leave because we are coming back tonight, so we don't need to pack up.
The taxi came and dropped us at the beginning of today's walk, back in Burneside. It was quite a pleasant walk; only 15km / 3½ hours, with the landscape changing as we got closer to Windermere. We stopped for first coffee after 1½ hours, then waited for the slate bench at the end for our next one. The slate bench was a long way in coming; it is the official end of the Dales Way, just outside Bowmore on Windermere. Views of Lake Windermere did not appear until the very end.
We sat on the slate bench for a while, and chatted to some passers-by; two separate American couples. Then descended into Bowmore, and a complete change of scenery. Touristville! Masses of people, tourist shops, icecream shops, B&B's with no vacancies; rental boats and ferries on the lake; not really our scene. So we headed up to the town of Windemere, away from the lake, where there is a manned train station – to get some info about next week's strike. It didn't help; Windemere was no better than Bowmore, and the train station had been abandoned by its staff for the afternoon.
So we descended again into Bowmore. We both needed a wee, but all the toilets we'd seen were pay ones; so we found a rhododendron garden we could use. And on the way we bought cards for Frankie & Elsy, glasses and a hat for me; some sudokus; so it was not all a wasted trip. We had a coffee and pastie in a Cornish bakery, then went down to the lakeshore to wait for our 5pm taxi.
Back to the more real town of Kendal, where Sheila showed us her hidden garden down a private lane behind the adjacent houses; and a shower and clean clothes for us both.
We went out. We weren't terribly hungry, and walked around checking eateries out; we ended up at Jintana Thai, where we had a good meal followed by a chat to the staff – one of whom suggested we get to Oxenholme, on Wednesday, by train and not buying a ticket, which is what she does! We'll see.
Sunday 19th June Kendal
This morning, we actually managed to sleep in, sort of! It was not till 7.30 that I looked at my watch. Breakfast, pack up, and we left our bags and walked into town; went to a couple of op shops, and then had a coffee out – with an almond croissant, which was disappointing.
We are moving today, to Kendal Hostel, where we have booked a double room. We wanted to see what sort of cooking facilities they had, so went there. I'd rung yesterday and been given the door code; we went in and I met a man cleaning, who very kindly even gave me the key to our room! We went out again, visited supermarkets, bought food for dinner, put it in the fridge at the hostel; and then went for a short walk up to Kendal Castle, a ruin on a hill overlooking the town. A pleasant walk. We returned via Bridge House, picked up our bags (and heard about some of the mountaineering Sheila's husband Alan had done) and checked into the hostel. The hostel seems fine but it has the most uneven floors I've ever known – it almost makes you feel seasick walking around it!
And then I spent a long time in the dining room tidying up all the emails, etc., that have come in in the past week or so that I've not had time to attend to while we've been walking. We had a nice roast lamb dinner with vegies, and wine, cooked here at the hostel; a nice change.
Monday 20th June Kendal
We had a reasonable sleep in our very compact room; woke early, because I hadn't pulled the curtains, but I pulled them and went back to sleep. We had to make our own breakfast, for a change; using our well-travelled muesli. Went out and bought some food for lunch in Booths Supermarket, then packed our day packs and set out.
Sheila, from the B&B, has very kindly lent Alison a pile of local maps – and has given her her old National Trust membership card; valid till 30th June, and she already has her new one! So we set off on a walk to Scout Scar, an escarpment to the west of town overlooking the Lyth Valley. It was a good uphill walk out of town; finding the footpath turnoff was easy because of the line of cars parked on the road there. The walk and the views were very good; you could see all the way to the sea in the south.
But it was not a long walk; it had taken only a tad over an hour. So, with the experience we have now with English public footpaths – and the GPS on our phones – we headed south, to Sizergh Castle. It was a good walk there, which we did entirely on public footpaths.
Sizergh Castle is a large house; the main (oldest) part may indeed have been a castle, but later additions made it more into a mansion. It does have extensive varied and manicured gardens around it, along with some large ponds. We wandered around them and ate our lunch at a picnic table, in the sun; it has been a gloriously sunny day, the best we've had since arriving in the UK.
We treated ourselves to a coffee and cake at their shop – where we found that the charge for visiting the gardens is £9.00 each! We had just wandered into them with no problem. Fortunately with the National Trust card it didn't matter anyway.
And we took more footpaths across to the River Kent, and walked beside it back to town; getting home at ~5pm. A very good day's outing.